IDA-300 Die attach pastes are designed for applications requiring good thermal conductivity and high optical transparency.
IDA-300 series pastes are designed for a range of electronics and semiconductor applications. IDA-300 series products are thermally conductive and optically transparent pastes. These products are solvent- and Pb-free as well as RoHS compliant. Inkron's technology platforms i.e in-house synthesized siloxane polymers and particle production combined with particle/matrix coupling technology allows us to modify the properties of these products so that the varying customer requirements can be met. Special attention has been given to minimize the contact resistance between the Die Attach and the substrate.
Siloxane based IDA-300 series products have exceptional thermal stability making them the ideal solution for LED and electronics applications. All Inkron's siloxane based pastes are solvent-free materials resulting into a crack-free, voids-free product with low or no outgassing.
The current IDA-300 series product are IDA -303 and IDA-313. Specific main features:
IDA-303 is designed for good thermal conductivity and high optical transparency. Thin Bond Line targets are easily met.
IDA-313 is designed for further improved thermal conductivity (0.5W/m K) and high optical transparency with low BLT (Bond Line Thickness) resulting in improved luminous output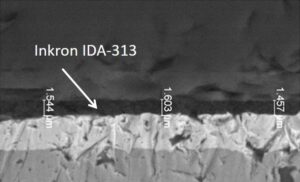 Highlights of IDA-303 Die Attach Paste
High optical transparency and good thermal conductivity
Solvent free, curing without voids, No VOC's
Pb-free and RoHS compliant
Good adhesion to the range of substrates
Fast curing at low temperatures
Long work and shelf life
Highlights of IDA-313 Die Attach Paste
High thermal conductivity compared to competitors: 0.5 vs 0.2 W/mK
Excellent adhesion => High die shear strength even with 1.5 μm BLT
Efficient heat dissipation due to thin BLT and high thermal conductivity
IDA-313 Case Study
IDA-313 with higher thermal conductivity and lower BLT thickness resulted in 85% lower bond thermal resistance than a competitor's transparent die attach material (Bond thermal resistance is calculated by BLT/TC)
Lower bond thermal resistance with IDA-313 resulted in higher light output (3.2% increase) and lower LED temperatures (~10C lower) than with a competitor's die attach material
Measured die shear strength (3.1 Kg for 0.66 mm2) also proves that IDA-313 is suitable for very low BLT thicknesses
This case study shows the high potential of nanoparticle-filled high thermal conductivity IDA-313 for LED manufactures compared to traditional transparent die attach adhesives:

Higher light output
Better heat dissipation
Lower material usage